Lessons from Jesus: Poverty and Wealth
Sermon by Jennifer Davis Sensenig

"Footnotes to the Nightly News"
Scriptures: Mark 12:38-44; Hebrews 9:24-28; I Kings 17:8-16; Psalm 146
[otw_shortcode_content_toggle title="click here for transcript" opened="closed"]
Footnotes to the National News
Texts: Mark 12:38-44; Hebrews 9:24-28; I Kings 17:8-16; Psalm 146
Community Mennonite Church (11-11-18)
Jennifer Davis Sensenig
St. Martin
Today, November 11th is Martinmas or St. Martin's Day. St. Martin's story, from the 4th century, is fitting for American Christians to remember on this 100th anniversary of the end of the First World War. Today, November 11th is also Armistice Day. St. Martin was born in what is now Hungary. He was the son of an officer in the Roman Army. Martin's family was transferred to northern Italy when he was a child and from Christians who were servants in his family's household, Martin learned about Jesus Christ, was baptized and joined the church. His father did not approve because he assumed that being Christian would prevent his son from following a life of military service. When Martin was only 15 years old the Roman Empire ordered all the sons of veterans to be enrolled in the army and so the teenage Martin, now a Christian, was forced to become a cavalry officer.
There is a famous story that Martin in uniform and riding his horse passed a naked beggar on the road and in compassion unsheathed his military sword and cut his own cloak in half to give the beggar something to wear. Martin then dreamed of Jesus wearing only the scrap of Martin's cloak. I was naked, and you gave me clothing. St. Martin is often invoked in ministries that serve the poor and provide clothing. But that's not the end of Martin's story. Over time, Martin was unable to reconcile warfare and Christian ethics, so he left the army and founded a monastery. He later served in church leadership as bishop of Tours in France. His Christian ethic also made him uncomfortable with the wealth of bishops and so Martin lived in a small cell adjacent to the church rather than the large house for the bishop. He died in about 397 and his body was laid to rest on November 11th.
Armistice Day
It seems fitting on this Armistice Day, the 100th anniversary of the end of a war, that we remember Martin whoas a youth turned toward Christ, who had compassion for the poor, who became a conscientious objector to war, who lived simply in spite of his privilege, and who served as a leader in the church. To commemorate the armistice on 11-11-1918 we and many other Christians around the world will ring our church bell today at 11 am.
We're participating as peacemakers in the way of Jesus. Bill White and his Sunday School class will ring the bell. Everyone is welcome to gather outside at 11am. It also seems fitting on this post-election Sunday that we heard psalm 146 upholding a politics of justice and righteousness under God's authority. God, not an abstract divine concept, but YHWH who cares for the poor, the widows, the children, the blind, the incarcerated. According to this psalm, whoever has been crushed, forgotten, used or abused, YHWH actively helps. Hallelujah!
National News–The Ancient World
But why is this story of the jar that is never empty and the oil that never runs out given to us this morning? It's a great story for children, it's a miracle and there is life after certain death. Let me set the stage a bit for the national news of the ancient world in which this story takes place.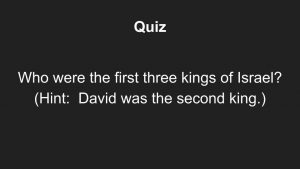 The book of I Kings begins with King David dying. And his son Solomon–after killing his rival brother–assumes the throne. During Solomon's reign his military power, wealth and love affairs with foreign gods are increasing. Through harsh taxation and enslaving workers, Solomon builds an opulent Temple. He also marries into foreign families establishing a harem of women to feed his hunger for sex and for dominance in the region. Reading this part of scripture sometimes feels like a futile exercise if one is seeking first the kingdom of God. I for one question Solomon's supposed wisdom.
When Solomon dies the kingdom divides and then the story more briefly chronicles the kings of both the Northern kingdom of Israel and the Southern Kingdom of Judah. Each passage assesses they whether the king was good or bad. Spoiler alert. All the northern kings are considered bad. And most of the southern kings are considered bad. Only 8 out of 20 get a positive review.
The very worst king in this book is King Ahab of Israel in the North.
And while recording his dreadful reign the pace of the story slows and Elijah appears. The prophet Elijah tells King Ahab that God says enough is enough.
Your god–Baal is a phony. Baal does not control rainfall. I do. So YHWH closes up the heavens and there is no rain. With famine on its way, God sends Elijah away to be fed by the birds and drink from a wadi, still flowing with what is left of the region's water. When the wadi dries up, God sends Elijah away–farther away–to a foreign country to be fed by this widow at Zarephath in Sidon:
a poor, non-Israelite woman, a widow. She is at the point of complete desperation because some well-intentioned prophet just instigated a famine which knew no borders and leaked into her country. So now she and her son are about to die of starvation. And God speaks to her.
For the record, God has no business speaking to poor dying foreign women. God has enough trouble with Israel, which is a corrupt nation that needs correction. But the story of the nation recedes, so that we pay attention to this woman. And we're paying attention not only to her need, but to her moxy. Elijah asks her for food and she says: as YHWH your God lives, I haven't baked a thing. And she goes on to name her particular suffering in poignant detail. Her account ends in certain death.
Then as so often happens not only in the Bible, but in our lives today, God's word breaks into the pain and suffering of someone's life. And God's word is: do not be afraid. Hear it! Believe it! This is God speaking. Do not be afraid. Do not put your trust in princes… or kings or president or prophets. Put your trust in God and God's word. Do not be afraid.
Last week after the ecumenical service to welcome the Temporary Protected Status activists from across the country to our community, I spoke with a member of the TPS National Alliance. She explained that worship services and praying together as we did don't make their work easier, but they make it possible. Rather than living with mounting fears of losing TPS–being separated from their families or returning to high risk situations in their countries of origin or disappearing into US society without legal status–rather than fear, they gain faith and hope from praying and worshipping with people across the country who know the God who cares and provides for the oppressed.
YHWH promises life out of death to a mother and child. That is enough, yet the story flows on. The prophet asks her to set aside preservation of her family in order to first support God's prophetic mission in the world. "First make me a little cake of the meal and afterwards make something for yourself and your son. For the God of Israel says: the jar of meal will not be emptied and the jug of oil will not fail until I send the rain."
From ancient times to the present, giving first to God and God's purposes, and trusting that other needs will be me has been controversial. This is the kind of thing Jesus talked about. This is the kind of thing Jesus did! Prioritizing God's purposes before family is rarely popular. But this poor, foreign, hungry widowed mother obeys. Wait just a minute. There is no manipulation by the prophet. God has already spoken to this woman. And if God's command at first seemed to be a delusional idea born of hunger, it now resonates as God's deep truth. For here is the prophet before her–the one God told her to feed. She obeys God's command. Elijah is fed, she and her son have enough. The jar of meal was not emptied, neither did the jug of oil fail, according to the word of YHWH that God spoke by Elijah. Perhaps we who so often resist living God's generosity because we fear scarcity need this word.
In the ancient world when folks were writing down God's ways with their people, the story of the widow at Zarephath was not included in the official record. And they had an official record: The Book of the Annals of the Kings of Israel. It's mentioned several times in the Bible, but this document was lost. The important story, the one everybody preserved, the salvation story, God's story, the story that becomes scripture is here in First Kings and here in a humble kitchen where there is enough for prophetic ministry and for family. The jar of meal was not emptied, neither did the jug of oil fail. If our first impulse is always to meet our own needs and wants, we will retain our fear and die. I believe that's true for us individually. And I believe that is true for the church. If we always meet our own needs and wants first, we will retain our fear, our logic of scarcity and die. But if we obey God's command to give, we will enjoy enough to meet our needs. We will have life. If we pay attention to this widow and to the God who apparently has a special care for widows and those most at risk, then we will live generously, secure in God's covenant with humanity that outlasts the current administration, the national news.
CMC giving and budget situation
As a congregation Community Mennonite Church has a prophetic function in the Shenandoah Valley. Being a peace church where everyone is welcome regardless of sexual orientation is a unique gift we bring to the community. As a denomination Mennonite Church USA has a prophetic function in our national context. Being a peace church whose journey forward in to follow Jesus, witness to God's peace, and experience transformation is a necessary influence among the various streams of Christian faith. Do we have the moxie of the widow at Zarephath? Are we willing to give generously– to first fund God's purpose before worrying about whether our own needs will be met?
I'm thinking that no one here is about to make our last meal and then die, but the question remains whether we have confidence in God meeting our needs. Last week I received a note in my mailbox from the CMC finance committee about congregational giving. Since I've been reading in the bulletin in recent months that our gifts as a congregation are lagging behind the needs of ministry by about $60,000 and we anticipate increasing our budget in 2019, I'm thinking about what Kent and I give to CMC. Fiscal responsibility is very important to me. I would not encourage generous congregational giving if I did not feel confident that CMC was prioritizing God's prophetic mission in the world. But I do. Kent and I support church ministries with more than 10% of our annual gross income. We give before we save for retirement or pay our mortgage. It helps that we plan how we give and pledge our gift in advance. The note in our boxes last week was encouraging us to return pledges to finance committee by the end of the month. Now not all our households are in the same financial position. But we are all in the same position before God. And so this week, I encourage you to listen for God's word to you and your household. Are you ready to give generously to God's purposes before worrying about your own needs? Do not be afraid. The income at CMC comes from this congregation–us. We also have a few organizations that rent space in our building, but that is a small fraction of our budget.
In world history, this story might be an obscure footnote in The Book of the Annals of the Kings of Israel, or a charming story of a little family who survived the famine by miracle. For us it is reveals God's personal, intercultural response to humanity's need–creating new, life-giving relationships, supplying needs generously, and inviting us to throw off our fear and respond to God's word with faith.
Brothers and sisters, this is not my word. This is Jesus' word. When he laid out his political platform to bring good news to the poor, to release the prisoners, give sight to the blind, let the oppressed go free and welcome Jubilee–the season of justice and peace, Jesus also told this story of the widow at Zarephath, so that we would not be afraid, so that we would follow in faith and fund ministry. So that we would expect life–even in the face of death. Now that was in Nazareth and Jesus was rejected there. How will we who hear Jesus today respond? [/otw_shortcode_content_toggle]
Our theme music is "Jesus, I believe you're near," composed by Matt Carlson and arranged for strings by Jeremy Nafziger.
To learn more about CMC podcasts, listen to other podcasts, or subscribe, check out our main podcast page!
Podcast: Play in new window | Download