We, the people of Community Mennonite Church, offer our gifts and lives to the call of Jesus Christ. We celebrate the ways that the image of God is revealed in persons of different age, ability, economic situation, educational level, marital status, race, ethnicity, gender identity, and sexual orientation.  We welcome LGBTQ persons into the full life and ministry of our church, including membership, communion, baptism, marriage, leadership and pastoral ministry.  We strive actively to follow the God of peace through our worship, fellowship, and service to the local community and wider world.
Join us in worship each Sunday at 9:30 am in person or via livestream. Our worship life is rooted in scripture song, congregational sharing, worship arts, and prayer.  Each week, many people take part in leading our Sunday service, trusting that diverse gifts of the Spirit will strengthen the whole body. We sing from Voices Together, a hymnal with a wide range of musical styles.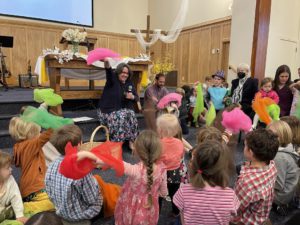 See our YouTube channel to watch previous  services and to subscribe for upcoming services. You can also access a selection of past sermons on our podcast.
Check our calendar to see activities and other pertinent info.
CMC follows Safe Church practices.
We are located at 70 S. High Street, Harrisonburg, VA, 22801
Getting Connected
If you would like to connect, please fill out the form below, introducing yourself to the pastors, and giving us your contact information. We will let you know about the next gathering for new attenders, held periodically throughout the year as an opportunity for you to learn more about CMC.